Agricultural seed suppliers, growing success from the ground up – the Midlands Seed story.
Our story
Midlands Seed, established in 1990, has through innovation and ingenuity has become one of New Zealand's top agricultural producers and suppliers of specialty vegetable and herbage seeds, pulses, oilseeds, cereal grains, and related value-added food ingredients.
Midlands Seed is one of New Zealand's top agricultural producers of specialty seeds and food ingredients, delivering 95% of the country's Marrowfat peas and 40% of the world's hybrid Carrot seed. We grow a range of Vegetable and Herbage Seed crops under forward contract alongside growing a diverse range of arable food crops, including cereals, pulses and oilseeds, to produce a portfolio of premium quality food ingredients.
Our latitude, pristine air quality, consistent water supply for irrigation, and exceptional soil types allow us to produce superior products for export.
Research and development is critical to our business, building a strong future for our stakeholders, and allows us to continually explore new avenues to improve our product range. Our people ensure we are trusted partners for farmers, suppliers and international buyers, by providing products and services that strengthen their businesses in the long run.
We have a strong quality assurance programme, guaranteeing complete traceability from the planted seed, right through to the final product. We have a substantial presence on farm during critical stages of production to not only support farmers, but to ensure success of our entire agricultural range.
World leading quality is our benchmark, in everything we do. From consultation to formulation, conception to fulfilment, our emphasis on quality and attention to detail at every stage of the supply chain is second to none.
New Zealand Seed Production
New Zealand is the fourth largest exporter of seed in the world. The seed industry is governed by legislation administered by the Ministry of Primary Industries (MPI). The industry's principal policy tool is the seed control scheme, which requires seed companies to demonstrate they can control seedborne diseases before it can be sold. These requirements help to prevent the introduction of serious diseases on farm in New Zealand and support New Zealand's position as superior agricultural producers of seed crop and pasture seed to the international market.
Seed production in New Zealand is managed under strict biosecurity regulations and relies on a significant investment by farmers, the Government and industry in research and development. Midlands has invested in a variety of research to develop technologies and a range of farm practices to improve quality and yield, which produces superior pasture, forage and vegetable seed.
Location
Latitude
43° 31' 48" South
Longitude
172° 37' 13" East
New Zealand's Canterbury Plains have a world reputation for excellent arable crop production. To the west, we are bounded by the spectacular grandeur of the world famous Southern Alps and to the east by the Pacific Ocean. Snow-fed rivers, which form the northern and southern boundaries, ensure an abundance of irrigation water, not only from direct access but also from underground sources. The temperate climate and access to a variety good water sources create ideal conditions for a broad range of crop production and research. Canterbury straddles the 43 degree south latitude line, a location comparable with Northern Italy in Europe and the Oregon in the United States.
Ashburton is serviced both by rail and road with a choice of two deep water ports with container facilities located at Lyttelton - 90 kms to the North and Timaru - 77 kms to the South. From these ports Midlands Seed ships its products to over 60 destinations in 34 countries.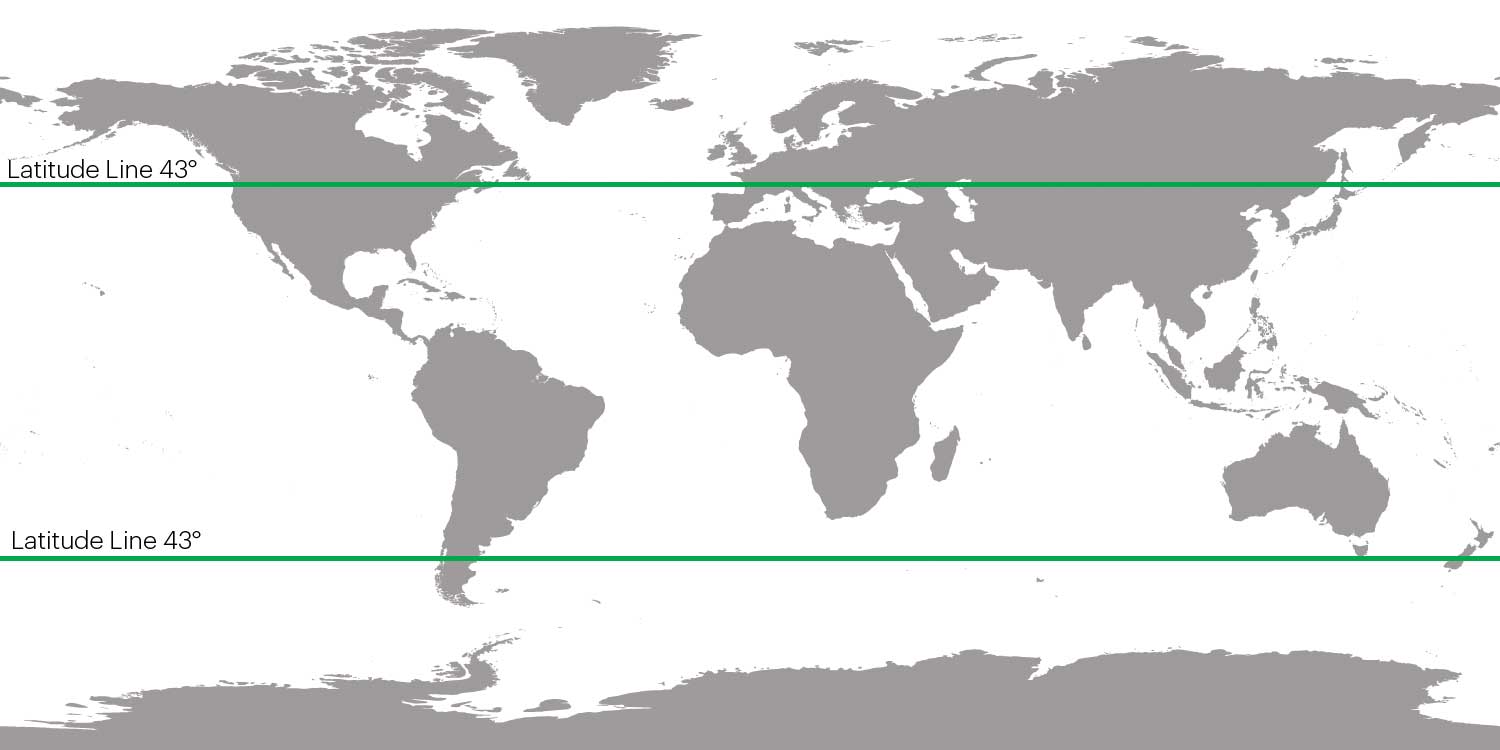 Weather
Summer temperatures climb as high as 35 degrees centigrade with an overall summer average of 25 degrees. Night temperatures fall to between 12 and 15 degrees centigrade in summer. Summer/Autumn planting is undertaken in February/March, with harvest in the following January to March period. Winter, while colder, is not considered extreme with overnight temperatures falling to as low as -5°C with up to 12°C to 14°C during the day. The winter months are from May to August with spring planting undertaken in late August through to October for an anticipated February/March harvest. These weather conditions support agricultural crop production, for a range of seed, including pasture, forage and hybrid vegetable.
Mean Temperature
11.7°C (53°F)
Mean Daily Maximum
January 22°C (72°F)
July 11°C (52°F)
Mean Annual Maximum
32°C (90°F)
Average Annual Rainfall
658mm
Sunshine
1985 hours per annum
Mean Daily Minimum
January 12°C (54°F)
July 1°C (34°F)
Mean Annual Minimum
4°C (39°F)
Average Rain Days
> 1mm 85 per annum
> 5mm 37 per annum
Today, we are at the heart of a global supply chain, delivering 95% of the country's Marrowfat peas and 40% of the world's hybrid carrot seed.